Delivery
Located in Leicestershire with excellent road links; here at Welland Valley Game, we are ideally positioned to ensure same day or overnight delivery of partridge & pheasant poults throughout the UK.
Using hygienic washable plastic crates to help ensure health is maintained, our willing experienced drivers can use four wheel drive delivery vehicles to deliver directly to your growing pens and help with off-loading.
Using our own vehicles, our efficient team of experienced and conscientious drivers understand the implications of transporting livestock. Our chick delivery vans and poult trailers have adequate ventilation to safeguard stock from over-heating in the event of road traffic delays
Whilst we will be delighted to deliver at times to suit our customers, we strongly recommend that birds travelling long distances are transported overnight and delivered at first light. This travel arrangement ensures that your new arrivals have plenty of daylight hours to find food and water and to explore their new surroundings.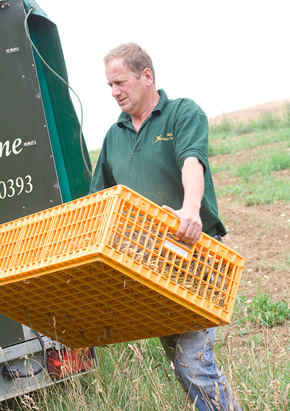 Flexibile
For delivery of chicks, our temperature controlled vehicles utilise sturdy, yet disposable ventilated cardboard chick boxes to provide you with optimum flexibility when putting the chicks out and to ensure that our drivers need not wait for empties.

Convenient
For your convenience and ease of recording, a unique delivery note is provided with each consignment. This clearly states the quantity of birds per crate, number of crates, time of loading, time of arrival and other relevant management information.

Pricing
Trust your order for partridge or pheaseant to Welland Valley Game and you are guaranteed value for money and absolute peace of mind knowing that you'll get exactly what you have ordered at the date and time you require