Game Bird Prices
By entrusting your order to Welland Valley Game, you will be guaranteed value for money and absolute peace of mind, safe in the knowlege that you'll get what you ordered, at the date and time you require.
healthy birds from a trusted and respected British game farm
quality birds from a closed flock selected for known flying ability
fully "hardened" poults that will survive our weather
pheasant poults are a minimum of 7 weeks on delivery
partridge poults are a minimum of 12 weeks on delivery
guaranteed delivery even in the event of a ban on bird imports
fit and healthy chicks only hours old on delivery
bird health advice from a respected source that you can trust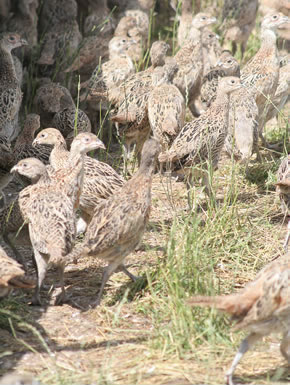 About Us
Growing up on a farm in rural Leicestershire meant that our managing partner Tim Stubbs had a love of the coutryside. This love has helped Welland Valley Game become a premier UK game bird supplier.

Bird Sales
Here at Welland Valley Game we have an enviable repitation within the industry, offering quality Eggs, Day old Chicks, pheasant poults, partridge poults and ex layers for sale.

Blaston Shoot
Enjoy a fabulous day out to remember at the Blaston Shoot! Set amidst the rolling Liecestershire, Northamptonshire countryside, Blaston offers individual days in the season for 8 -10 guns.